From a small-town Connecticut Joe Patrina's five-piece band called "LittleHouse" plays  a brand of music called "Heartland", a genre  lurking somewhere between Country Rock and Americana. 
LittleHouse performs in a barn, where the band and audience share a lot of laughs and fine original music. 
                             
Skope Magazine recently tracked down singer-songwriter Joe Patrina to ask a few questions...read the complete article below.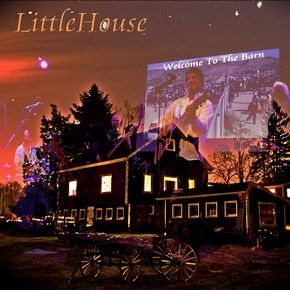 How long has LittleHouse been playing together?
LittleHouse started out as just me in 2007, writing songs on acoustic guitar and piano. One day I had a repairman come in to fix a door, and he ended up being a professional rock bass player. We jammed, and the next thing you know, he brings in a drummer, who brings in a guitarist. Then some of the original guys moved on to other projects and new players came in. This is the way most bands evolve.  It is like band formations and their disintegrations are the by-product of Greek Gods that are calling the shots. The current band has been together for years, and though we are distinct artists, we have become a single unit of sound, which is what every band hopes to achieve.
Could you define the genre "Heartland" for me?
From the get-go, people started calling LittleHouse a country band, mainly due our song topics and their vivid lyrical content. But I sure could not categorize us as country, the way one would hear a typical voice out of Nashville. For that matter, I don't consider Elvis or Johnny Cash pure country either. Plus, some of my material morphed into Rock and Blues. But regardless of each song's genre, LittleHouse was definitely American music, with my earlier English Rock influences no longer in play. So I decided to call it Heartland Music, an amalgamation of American styles from the 50's onward, with a center-of-country voice, and only a mild twang.
Must say I like the concept of your barn venue. That's pretty unusual in New England, no? The acoustics sound pretty damn good to me.
Well it is unusual in New England because I got the whole idea in Virginia at the Carter Fold. In the 90's I had made phone contact with Jeanette Carter, one of the original Carter Family cousins, and spoke to her about my problems as a songwriter, and she said "Son, you better get down here". And I went down to "Poor Valley" in the Appalachians before she died, and visited with her. She taught me all about songwriting and singing too, especially about getting the lyric out front, ahead of the tone in your voice. More, she hosted shows each Saturday night in The Fold, which was a specially designed barn built by her brother Joe. I came home and pretty much did what she told me to do, and our New England fans now get the same intimate night out as the Carters delivered across America ever since the 1920's.

You seem to have a knack for writing duets.  Tell me about the "Joe & Jess" aspect of LittleHouse.
 
Like I said, my old school songwriting seeks the humbler aspects of life, and that means describing the ups and downs as seen through the eyes of the couple that experienced the events together.  Duets come out of that shared experience corner.  Jess and I started singing together in 2010, and I see it as storytelling together rather than singing together.  We have some very primitive country ballads; some '40's/50's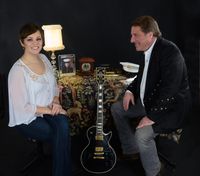 sounding blues numbers, 60's country formats and modern rock pieces as well.  The audience loves the whole thing, especially the energy caused by the back and forth.  Jess is the most intuitive artist I have ever worked with; she knows what I am thinking before I do and it shows on stage.

 
Seems there's a bit of June and Johnny in your presentation, don't you think?
 Actually Johnny and June Carter Cash – who was Jeanette Carter's cousin – were the last of the male/female duet pairings, other than the one-off partnerships like Dolly and Kenny doing Islands In The Stream.  Playing character parts within a song is a unique way of presenting band music with a theatrical dimension thrown in.
 
Did you construct the barn yourself?
The LittleHouse barn was built in 1950, and built well, including being anchored by a tremendous field stone fireplace. In the old days it was a gathering place for local card games. What we did was convert it into an acoustically sound performance space. The "we" happened to be a whole stream of professional grade carpenter/musicians. For example, the roofers were a complete country band, and a couple of guys were in a Green Day copy band, etc. It was a blast, and the work done was of the highest quality. Today you can hear the room's personality in the live recordings.
Is the barn always packed?
Yes it is. We do not charge to get in – not allowed to by town authorities – so plenty of new faces and regulars always want to come by. We post show dates on our WEB Site, and the first 80 email responses get put on the invite list.
Who are your most prominent influences?
Earlier in life I followed the guitar heroes, plus the big British acts, but even then I was also cataloging to memory the huge array of singer/songwriters that came primarily from America – the Johnny Cash, Roy Orbison, Bob Dylan, Joni Mitchell, Jimi Hendrix, Steve Stills, and Glen Frey/Don Henley types. Eventually, I started exploring music from before my time – early Black music from the 1800's, and the hillbilly music of the same era. Jeanette Carter encouraged me to stay close to this older, true folk stuff, as the song content was more purely a reflection of the human condition, not trying to be too clever. She called them "grownup" songs.
There's a rumor going around about your involvement in a TV Pilot…..Might you elaborate?
That's right.  We want to do a Joe & Jess Welcome To The Barn … show, where we introduce young talent to the American audience.  Rather than judge the talent, we dig into their ideas and artistic drivers.  I have tried a few pilot shows out to hone the concept, and expect to film the shows out of Nashville.

Is this your first foray into the world of television?
We have been on live TV and radio many times, but this is the first time we have tried to package a show. Previous film projects have been one-off song videos, 3-5 minutes in length, but a 30-minute show is a whole new level of character development and storytelling.
Pretty impressive that you guys scored a profile in the New York Times. How'd you swing that?
In 2010 we were supposed to headline a big outdoor concert that combined bands and politicians, a show that eventually collapsed. It was a pretty heavy scene, and the Times wanted to get the "back story" behind LittleHouse.
Did you subsequently experience an upsurge in fan activity or sales?
Activity more than sales: people were checking out our WEB Site. But to drive sales, you need to perform live.
Anything else you wish to add?
Thanks to Skope Magazine for all of the great questions. You see, a life in music is a great but difficult thing. And when someone like yourselves, who is also dedicated to the art form, but from the media vantage point, shows interest, and really wants to know what one thinks … then that is a good day.